A Book Review of In Between, by Jenny B. Jones
Katie Moves to In Between
How does it feel to be in between in the small Texas town of In Between? We meet sixteen-year-old Katie in a minivan as her social worker, Mrs. Smartly, is driving her to a foster home. Katie's mother, Bobbie Ann Parker is in prison for selling drugs. Katie has been in a group home since her mother was arrested six months ago. Until her mother left, Katie was pretty much raising herself.
Like many older children in foster care, Katie fears what she may find in a new home. Katie is really freaked out when she finds her new foster daddy, Jame Scott, is a preacher.  Katie has not spent much time in churches.  As Katie and Mrs. Smartly get closer to the Scotts' home, Katie discreetly seeks clues on what her "pretend-o-parents" will be like. She says it this way:
It's like I want to know about these people, but I don't want Mrs. Smartly to think I'm too interested. Or scared.  The thing with foster care is you have way too much uncertainty. I knew where I stood at the girls' home. I knew who to be nice to, who to totally avoid, and what the lumps in the dining hall mashed potatoes really consisted of.
As Mrs. Smartly keeps probing to find out what Katie is afraid of, we get a good idea of what life in the Sunny Haven for Girls was really like and what Katie fears about foster care. She is in between one life and another, and although she hated the old, she is afraid of what she might find in the new.
She still smarts from the rejection of her mother, who chose drugs over her own child.  I remember one of my  own nephews grieving for the same reason many years ago. He never had to go to a real foster home, since my mother and I were allowed to take him and his brother into our homes until their home was stable again. Eventually it was.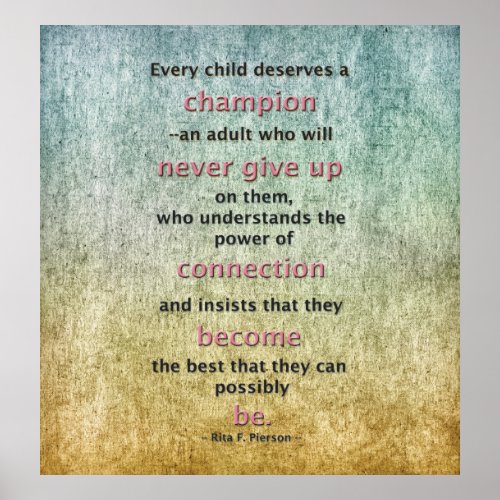 Every Child Deserves A Champion Poster

Foster Care is an Adjustment for Everyone
Jenny B. Jones has written In Between (and the books which follow it in this series) in Katie's voice.  Though the books are targeted for young adults, I couldn't put them down.  That may be partly due to my own experience as the foster parent of a troubled girl we later adopted.
I only wish our experience could have been a bit more like the Scotts.  Our daughter left us when she was a few days from turning seventeen. As we continued to read In Between, we discovered that the Scotts' also had an adopted daughter, Amy, who left them for some of the same reasons.  This is one more reason this book spoke to me.
In Between deals seriously with common problems both foster children and their foster parents face, and many of them are similar to what most teens and conscientious parents face.  These problems include self-esteem, acceptance, boundaries, discipline, expectations, drug abuse, and peer pressure.  More complicated issues include the fear of being sent away from a family once you feel at home, or having a child you have grown to love sent back to unsuitable parents.
We watch as Katie adjusts to learning about church and God, as she tries to fit into a new school and has to deal with a school bully who happens to be the daughter of her P.E. teacher, who is also a bully.  She first gets into the wrong crowd at school and gets into trouble. She is sure James and Millie will send her away, but they find a way to keep her from getting a jail record while providing some very appropriate consequences.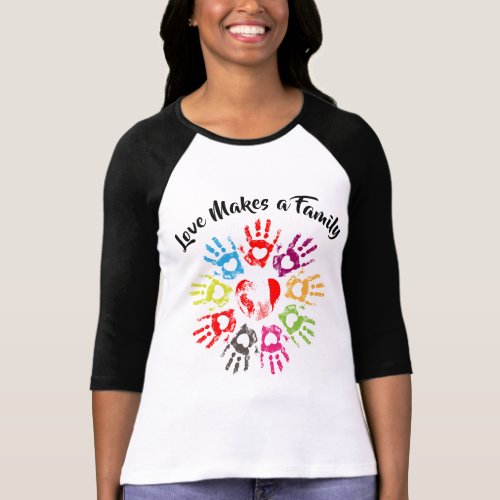 Love Makes a Family – Parenting Adoption Foster T-Shirt

Chosen Foster Care, Adoption Theme Personalized Ringer T-Shirt

Adoption Made Me a Mom T-Shirt

 Maxine  Provides Comic Relief
Almost the first thing Millie does after Katie moves in is take her mall shopping for new and fashionable clothes. This is followed with a new hair style. While they enjoy lunch at a restaurant, Millie's phone rings and we first become aware of Millie's eccentric mother, Maxine. Here's how Millie describes her to Katie:
'my mother is, um, different. I don't want to scare you, but she's been compared to Judge Judy….on crack'
We then learn that Maxine can no longer drive because she knocked over a few stop signs. So she bought a tandem bicycle that she named Ginger Rogers and had a little accident
'wiping out in the street. Luckily though, the chicken truck stopped for her. After it hit a fire hydrant.' (Millie) shakes her head and laughs. 'It rained feathers and naked chickens for an hour. But Mother says she is close to perfecting her wheelie.'
As you might guess, Maxine and Rocky provide the comic relief in this book to keep it from getting too heavy.  Maxine reminded me a bit of Electra Lark, Temple Barr's eccentric landlady in the Midnight Louie Series by Carole Nelson Douglas, but Katie's foster granny Maxine makes Electra seem conventional.
The Crazy Grandma Shirt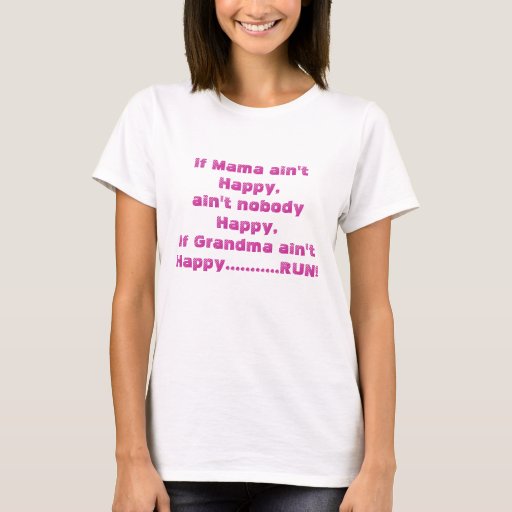 If Mama Ain't Happy T-Shirt

My Recommendation
By now I'm fully immersed in Katie's world. I have read all four books in the series, In Between (1), On the Loose (2), The Big Picture (3) and Can't Let You Go (4).  I'm not a spoiler, so I won't say much more about the plot. I can't get enough of the characters.
I now really care what happens to James, Millie, Katie, Frances (Katie's friend), Sam (Maxine's friend), Amy, and even Maxine, crazy as she seems.  Like most teens, Katie doesn't learn all she should from her mistakes the first time around. James, Millie, and Maxine do their best to keep her safe from those mistakes and unlikely to repeat them.
Trust is a big issue, as it is in most families.  The books show how it is carefully built, violated,  and rebuilt. We see important changes in all the characters as the plot develops, and we get to know them well.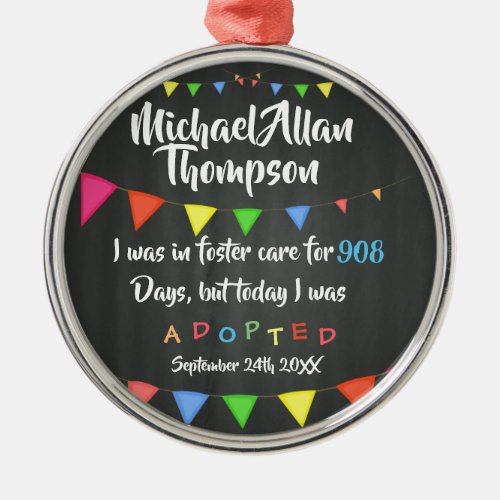 Today I was Adopted from Foster Care – Custom Name Metal Ornament

I recommend this series to all who want to get inside the heads of foster children and foster parents, to those who are foster teens or foster parents, or to anyone who is a friend of any of these.  Even when the plot moves into serious territory such as tornadoes, bullying, vandalism, and cancer, the author allows us to laugh and relieve the tension. She doesn't put anyone on a pedestal and gives even ministers and their families heavy problems to grapple with.
Although the book is definitely Christian, it's not goody-goody nor does it raise expectations that Christians will have trouble-free lives. Instead it shows believers trusting God in the midst of their pain and uncertainty.
Get the Series All at Once
I purchased In Between as a free eBook from Amazon. It may still be free if you hurry. But I give you fair warning. If you read it, you will want to get the other books immediately. I have now purchased and read them all. You can get all of them at once in the Kindle edition.  If you decide to buy the paper rather than the Kindle editions, be sure to buy them all at the same time to avoid being left hanging, waiting for the next book to arrive.
The photo below is perfect to share on Pinterest. The girl in the photo is my daughter, who had come to us as a disturbed foster child. The picture  was taken when she was about the same age as Katie was in the book. You can read her story here: Sarah: The Suicide of Our Adult Child
You may also enjoy reading another story of a foster child whose mother is about to get out of jail. Should she go back to her mother or stay in foster care? See my Book Review: A Mother's Conviction.